A bit of catchup from early December.
My friend Heather Cossette of Flam Chen was gracious enough to sit still for while and paint herself white for a special photoshoot.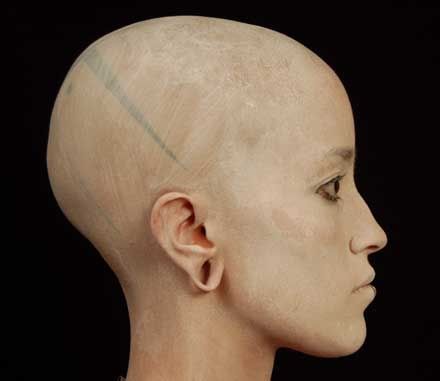 This photoshoot was for gathering material for an online launch of my science fiction novel,
Children of Falin
. The novel has been a long, ongoing project for me, and the core manuscript was finished around two years ago. I've been meaning to publish it for a long time now, probably through self-publishing.
Well… since self-publishing takes money, and money is something I am not in great supply with, I've decided to do an even more alternative route: online publishing. Since I'm a web designer, a website is not something I need be in short supply of.
The plan is to release the novel online, with the greater 2/3 of it completely free and open to be downloaded and read. The last 1/3 would be a small fee for download—something like five bucks. And no restrictions on sharing it.
Of course the logistics of all this is something to be worked out—but I plan to be making print material for marketing. My dream is to even have a viral marketing campaign here in Tucson and the various events that travel beyond Tucson. But first, I needed some raw material to work with.
The novel focuses around a race of humans in the far future who are entirely female (sort of) and live in a very strict, theocratic
society. It's actually a big critique of institutionalized religion in metaphor—but visually, I'd like to think the novel is kind of striking, ala Avatar. The "Falinian race" as they're called, are noted for their pure-white skin and for tattooing their "sins" as visible symbols on their body.
I might be a little jealous of James Cameron's funding. But not to worry! I have my own tools at the ready: my camera, and Photoshop. Here are the results of the shoot with Heather:
There will be lots of versions of these, but this is the first step to the artwork which will ultimately exist on childrenoffalin.com (there is an ancient website I built there already). But I thought I'd share this first step, as I was rather pleased with it.
I'll keep updating with the progress of photoshoots like these, and with the project of publishing my novel in general.